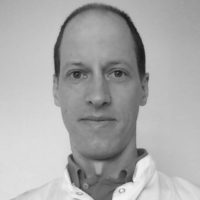 Infectiologue
Praticien Hospitalier
Infectiologue référent du centre associé pour la prise en charge des IOA complexes
Titres & Diplômes

Titres universitaires
2021 Doctorat en Immunologie et Microbiologie, Université Côte d'Azur
2020 DU méthodologie en recherche clinique ISPED Université de Bordeaux
2017 DESC pathologie infectieuse et tropicale
2015 Diplôme de Docteur en médecine
2015 Diplôme d'Etudes Spécialisées en Médecine Interne
2013-2014 DIU Prévention et prise en charge des infections ostéo-articulaires (Faculté de médecine de Tours)
2013 Master 2 de Pathologie Humaine, Maladies Infectieuses Contagion Prévention (Université d'Aix-Marseille). Intitulé du mémoire :
« Inactivation de la GTPase RhoA par EDIN-B dans un modèle murin de pneumonie à Staphylococcus aureus ST80-MRSA-IV ». Stage effectué dans l'équipe d'Emmanuel Lemichez,
Centre Méditerranéen de Médecine Moléculaire UMR INSERM U1065/UNS.
2010 DU d'Antibiologie de la faculté de médecine de Nice
Titres hospitaliers
2016-2020 Chef de clinique des universités- assistant des hôpitaux dans le service d'Infectiologie du Pr P-M Roger
2015-2016 Assistant spécialiste dans le service d'Infectiologie du Pr P-M Roger
2008-2015 Internat
Titres scientifiques 
2021 Soutenance de la thèse de science programmée le 31 mars 2021
2013 Master 2 de Pathologie Humaine, Maladies Infectieuses Contagion Prévention (Université d'Aix-Marseille). Intitulé du mémoire :
« Inactivation de la GTPase RhoA par EDIN-B dans un modèle murin de pneumonie à Staphylococcus aureus ST80-MRSA-IV ». Stage effectué dans l'équipe d'Emmanuel Lemichez,
Centre Méditerranéen de Médecine Moléculaire UMR INSERM U1065/UNS.
2006 Maitrise de Science biologiques et médicales Université Claude Bernard Lyon 1
---
Activités d'enseignement et de pédagogie
Implication dans l'UFR
Commission pédagogique
2019-2020 :Commission de la réforme du 2ème cycle, participation à l'élaboration du nouveau programme du 2ème cycle (2 séminaires)
DFASM UE6
2019/2020 : 14 heures
2018/2019 : 9 heures
2017/2018 : 21 heures
2016/2017 : 21 heures
2015/2016 : 9 heures
DFASM hors UE6
Conférences de préparation à l'ECN organisées par la faculté de médecine de Nice de 2011 à 2021 en infectiologie (2 séances par an)
De 2013 à 2021 participation aux séances d'aide au raisonnement clinique (2 séances/bimestre, 1 heure par séance) données aux étudiants du service d'Infectiologie
Participation au tutorat des externes en DCEM3 mis en place dans le service d'Infectiologie par le Dr Pulcini et le Dr Demonchy en 2010-2011, 2012-2013 et 2013-2014 (5 séances de 2 heures par an).
DU
DU d'antibiologie de la faculté de médecine de Nice.

Participation à l'organisation du DU en 2020-2021 avec le Pr Michel Carles
Thématiques des cours donnés: « Pharmacocinétique clinique des antibiotiques : quand et comment doser les antibiotiques ? », « Infections ostéo-articulaires » et « Infections du pied diabétique », « Fluoroquinolones », « Macrolides », « Infections neuroméningées » 2021 en cours, 2019 6h00, 2017 5h30, 2015 2h00:
DIU
DIU national Infections ostéo-articulaires / Session 2 : Atelier cas clinique : diagnostic différentiel d'une IOA prothétique
DES biologie médicale
1H : infections de VVC 2018
Capacités
Enseignement de 2 heures pour une capacité de gérontologie au CHU de Nice en janvier 2016, décembre 2017 et décembre 2019 sur le thème : infections nosocomiales et iatrogénie
FMC
Formation FAF-PM aux médecins généralistes sur COVID 19 en avril 2020 deux fois deux heures (fmc ActioN)
Epidémiologie de la résistance bactérienne et choix de l'antibiothérapie probabiliste en orthopédie pour le réso Infectio PACA-Est 2019
Daptomycine au cours des IOA pour le réso Infectio PACA-Est 2018
DPC « Situations courantes et complexes en médecine générale » durant 3 heures pour une mise au point sur le bon usage des antibiotiques en 2017.
Présentation de 20 minutes à la réunion du 4 juin 2016 de l'association régionale de médecine vasculaire PACA intitulée : « le pied diabétique : approche multidisciplinaire, le point de vue du médecin Infectiologue ».
Encadrement de thèses de médecine
Comparaison pharmacologique des administrations continue et itérative de cloxacilline par voie intraveineuse au cours des infections ostéo-articulaires à Staphylococcus aureus. Publiée dans AAC
Epidémiologie bactérienne des IOA survenant après fracture ouverte au CHU de Nice. Publiée sous forme de lettre à CMI
Audit national des pratiques médicales et chirurgicales au cours des IOA complexes (en collaboration avec le Pr Tristan Ferry aux HCL). Publiée dans BMC Inf Dis
Usage de la clindamycine pour le traitement des infections de prothéses d'épaule à Cutibacterium acnes. Poster RICAI 2019, soumis à Journal of shoulder and elbow surgery
IFSI / Ecole de sages-femmes (SF)
| | | |
| --- | --- | --- |
|   | IFSI | SF |
| 2011/2012 | 4h |   |
| 2012/2013 |   |   |
| 2013/2014 | 3h | 4h |
| 2014/2015 |   | 1h |
| 2015/2016 | 5.5h | 3h |
| 2016/2017 | 6h | 3h |
| 2017/2018 | 10h |   |
| 2018/2019 | 8h |   |
| 2019/2020 | 9H30 |   |
| 2020/2021 | 4h |   |
---
Activité de recherche
Appartenance à une équipe d'accueil EPST (Inserm) labellisée par AERES/HCERES
Centre de médecine moléculaire, Nice, INSERM U1065, équipe 6 Virulence microbienne et signalisation inflammatoire, Dr Laurent Boyer
Encadrement d'étudiants
Master 2 : 2020-2021 Eva Mellan, co-encadrement avec le Dr Laurent Boyer au sein de l'équipe 6 du C3M INSERM U1065 dans le cadre de la poursuite du projet NLRP3-BACT visant à évaluer le niveau d'activation de l'inflammasomes NLRP3 chez les patients bactériémiques à aureus et E. coli
Protocole en cours
Projet PRO-Dalba : utilisation de la dalbavancine en première intention dans les infections de prothèse de genou ou de hanche à staphylocoque. AOI 15 000e+ Industrie (Correvio) 200 000e CHU de Nice + Tourcoing (Pr Senneville) + Ambroise Paré (Dr Dinh)
Projet NLRP3-BACT : poursuite du projet transversal Inserm C3M-Infectiologie visant à évaluer le niveau d'activation de l'inflammasomes NLRP3 chez les patients bactériémiques à aureus et E. coli. AOI 15 000e + Co-financement 15 000e
Projet COVID-19 CovInnate : évaluation du niveau d'activation de l'inflammasome NLRP3 chez les patients COVID-19, résultats publiés dans Blood advances, étude ancillaire sur l'utilité des tests d'activation de l'inflammasome NLRP3 pour distinguer les répondeurs et non-répondeurs à la corticothérapie.
Première partie du projet financée par l'Université Côte d'Azur 15 000e. Etude ancillaire soumise à l'ANR COVID-19 Resilience.
Investigateur pour DISCOVERY
Investigateur dans les PHRC
SHASAR
CLOCEBA
RIFAMAB
Activités dans les organismes de recherche
2021 : intégration du conseil scientifique du GIRCI Méditerranée (suppléant)
Activité de soins
Prise en charge des patients
Infectiologue référent du centre associé pour la prise en charge des IOA complexes
-consultation dédiée (433 consultations sur 2018 et 2019)
-veille téléphonique (7/7) pour les avis émanant de l'IULS (plus de 150 avis/an)
-co-organisation de la RCP IOA complexes
Période COVID-19 : Alternance unité COVID-19 14 lits, Soins intensifs COVID-19 (8 lits avec OHD) et Infectiologie conventionnelle 10 lits
Coordonnateur recherche COVID-19 pour l'infectiologie : projets locaux, nationaux et européens
Hors période COVID-19 : Hospitalisation conventionnelle en Infectiologie: 17 lits
3 visites par semaine, CV quotidiennes, ½ journée de consultation par semaine.
Partenariat hospitalier avec l'hématologie pour la prise en charge des infections complexes de l'immunodéprimé
De mai 2015 à mars 2017 participation au Recours Rapides (avis téléphoniques CHU et non-CHU + consultations d'urgences).
Astreintes de sécurité du service pour PACA-Est
Responsabilités hospitalières
Membre de la commission des anti-infectieux
Groupe de travail risques NRC et REB: interlocuteur du service d'infectiologie pour la révision 2019 du document « dispositif de gestion de crise du CHU de Nice »
Service rendu à la spécialité
Reviewing pour MMI à la demande du Pr Pierre-Marie Roger (co-éditeur) : 6 articles depuis 2017
Activité d'intérêt général
Membre du groupe de recherche ESCMID pour les infections associées au matériel étranger (ESGIAI) depuis Mai 2017
Membre de la SPILF depuis 2019
Score SIGAPS mars 2021 : 500
Travaux originaux (anglais)
Travaux originaux (français)
Travaux originaux avec participation aux groupes d'étude
Lettres à la rédaction, cas cliniques, éditorial (anglais)
Lettres à la rédaction, cas cliniques, éditorial (français)
Diagnostic d'une infection : 24/24 est-ce nécessaire. Journée nationale de formation des paramédicaux en infectiologie. JNI 2020
Évaluation de la prise en charge des infections ostéo-articulaires complexes en France: audit national communication orale en plénière pour le congrès CRIOAC 2019
Perfusion continue de cloxacilline au cours des IOA à aureus RICAI 2018
Brevets en lien avec les travaux menés au laboratoire Inserm sur l'inflammasome NLRP3 au cours des infections virales et bactériennes
EP193005502.7 (2019) "Methods and composition for treatment of NLRP3 inflammasome mediated IL-1beta dependent disorders".
EP20315109.7 (2020) "Methods and compositions for treatment of SARS-CoV-2 infection"
EP20305782.3 (2020) "Methods and pharmaceutical composition for the treatment of infectious diseases »
EP20306245.0 (2020) "Methods for diagnosis and monitoring form of coronavirus infection"
Score SIGAPS mars 2021 : 500

Travaux originaux (anglais)

Travaux originaux (français)

Travaux originaux avec participation aux groupes d'étude

Lettres à la rédaction, cas cliniques, éditorial (anglais)

Lettres à la rédaction, cas cliniques, éditorial (français)

Diagnostic d'une infection : 24/24 est-ce nécessaire. Journée nationale de formation des paramédicaux en infectiologie. JNI 2020
Évaluation de la prise en charge des infections ostéo-articulaires complexes en France: audit national communication orale en plénière pour le congrès CRIOAC 2019

Perfusion continue de cloxacilline au cours des IOA à aureus RICAI 2018

Brevets en lien avec les travaux menés au laboratoire Inserm sur l'inflammasome NLRP3 au cours des infections virales et bactériennes

EP193005502.7 (2019) "Methods and composition for treatment of NLRP3 inflammasome mediated IL-1beta dependent disorders".

EP20315109.7 (2020) "Methods and compositions for treatment of SARS-CoV-2 infection"

EP20305782.3 (2020) "Methods and pharmaceutical composition for the treatment of infectious diseases »

EP20306245.0 (2020) "Methods for diagnosis and monitoring form of coronavirus infection"